Coaches
Giuseppe (Pep) Iannucci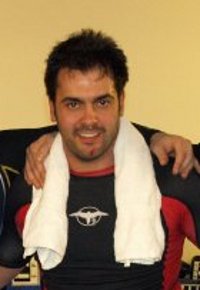 I started Burton MMA in 2005. initially to get training partners to continue my own MMA training after discovering a lack of any MMA clubs in Burton. I started training in traditional martial arts after watching movies such as Karate Kid and lots of Ninja movies.
I started training in Karate with childhood friend and fellow coach Matt, and then at the age of 14 we started doing Ninjitsu. During this time we discovered the UFC via video. This led me to search for somewhere to train this no holds barred style while at University in Leicester in 1999. Unlike a lot of early MMA enthusiasts, it wasn't Jiu-Jitsu that I was looking for but Wrestling.
At that time in the late 90's it was the wrestlers who were dominating competition with their athletic take-downs and ground and pound, nullifying the early success of the jiu-jitsu submission attempts off their backs.
What I found was a University club and Organisation called the KSBO, which ran amateur MMA tournaments in Nottingham. In these competitions future MMA stars such as Michel Bisping and Paul Daley first cut their teeth. Within weeks Matt and I were having little trouble with the top students and instructor whilst rolling. So we entered our 1st competition. I'd like to say we won, but the truth is we got a pasting!
Our fitness wasn't up to scratch, and the years of traditional martial arts had only really taught us how to take a beating from instructors. We had little idea how to "dish it out" so to speak. This fired us up and we searched further afield to get better training.
Matt discovered the Shooters Shootfighting organisation. We went to a seminar, and after a one day seminar we entered KSBO competition the next day and placed much higher than before. This is when we started to discuss a kind of fighters jamming session where we could train different ideas and styles. Matt got the ball rolling with Jimmy Cairny and set up Leicester Shootfighters, we soon had most of the KSBO students on board. Nathan Leverton joined us and we took the club to the University.
When we finished Uni the club was left in the capable hands of Nathan, who has gone on to produce and coach UFC fighters such as, Dan Hardy, Andre Winner, Paul Daley as well as a fantastic team of Submission grapplers. We moved back to Burton, and continued to train at Leicester until the travel became a little too much, so we took a break.
In 2005 I started Burton MMA and I convinced Matt to come on back and train again, becoming our Wrestling coach. We soon became Grindhouse Fight team as our students started to enter amateur and professional competitions such as Cage Warriors and FX3. In 2009 we moved to the new Fighting Fit Mixed Martial Arts training facility and haven't looked back.
David "Morcegao" George (De la Riva)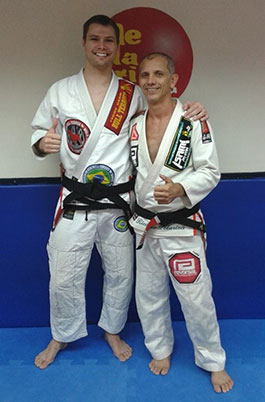 Black Belt
ADCC European bronze medalist
4 x British Open Champion, weight and absolute 2009,2010, 2011
UMA British champion 2012
Bristol open champion 2010